Lights Out Boxing is a white-collar, charity-based boxing promotion hosted in Southport in North West England. Now on its fourth iteration, the show has become increasingly popular over time with locals. The standard of venue and fights has led to an overall increase in the show's production and entertainment value.
Boxing and Bangers' upcoming show will go down this Easter weekend on Saturday 16th April at Southport Casino.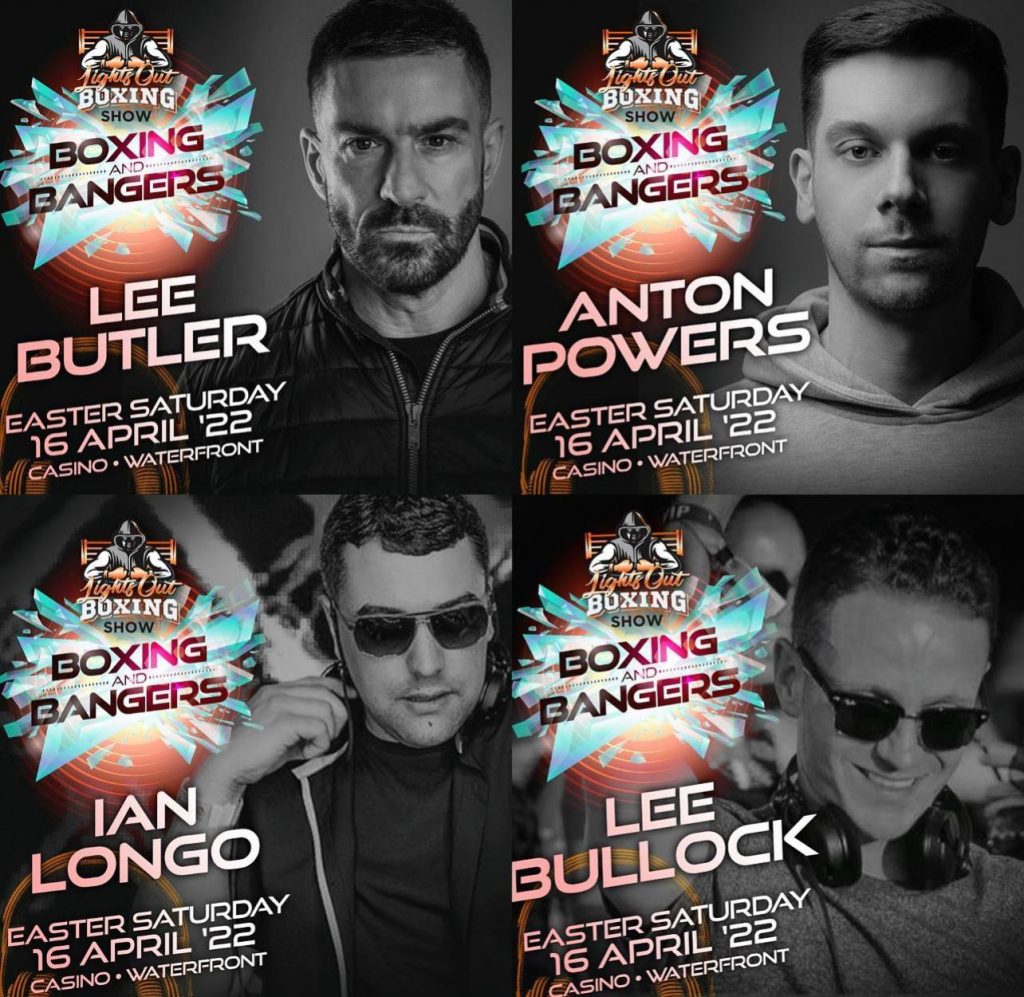 The promotion originally started back in 2019, and since then, we've seen them host three events, including, most recently, a Black-Tie event at the amazing renovated Southport Casino. They are soon to host an Easter weekend event with over ten fights and a star-studded after-party featuring the likes of Anton Powers, Lee Butler, Ian Longo, and Lee Bullock.
Charitable Work
Not only does Lights Out Boxing put on an unforgettable night of fights and after-fight entertainment, but it also raises money in aid of the Isla Rose Foundation. Their most recent event saw them raise over £2000 through sports memorabilia and high-ticket item auctions.
Previous Event – Casino Royal
Lights Out Boxing Casino Royale saw an exciting night of fights refereed by UFC and UK MMA legend Ian Freeman. A guest appearance from English dance music icon Kelly Llorenna and local DJs provided post-fight entertainment.
The unique aspect of Lights Out Boxing is that they welcome anyone who is willing to perform in front of a sold-out crowd to appear on the show. No matter what their experience may be. With that, the competitors receive a free 8-week training camp, provided by John Lund of Jab Fight Club, Southport.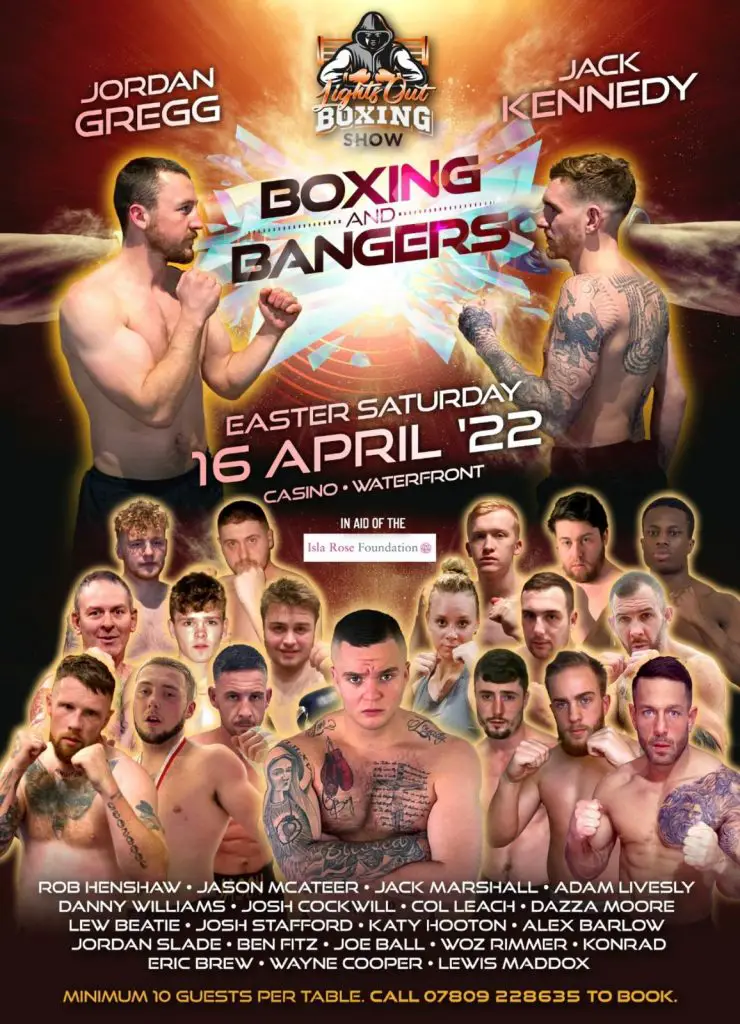 There is a mixture of levels, which makes for a great competitive spectacle. The main event features two high-level opponents fighting for the Lights Out Boxing Welterweight title. The reigning and defending champion Jordan Gregg (undefeated, Lights Out title holder) faces off against Jack Kennedy (professional Muay Thai fighter with over 40 fights, Super Muay Thai tournament winner, owner of Imperial Thai Boxing Gym).
Other notable fighters, such as Rob Henshaw (2 x Northwest Area title, 1 English title, 1 Lights Out title), will also be fighting on the card. He will be looking to keep his unbeaten record intact.
Branching Out
Boxing promoters and organisers Max Henshaw and Mike Settle.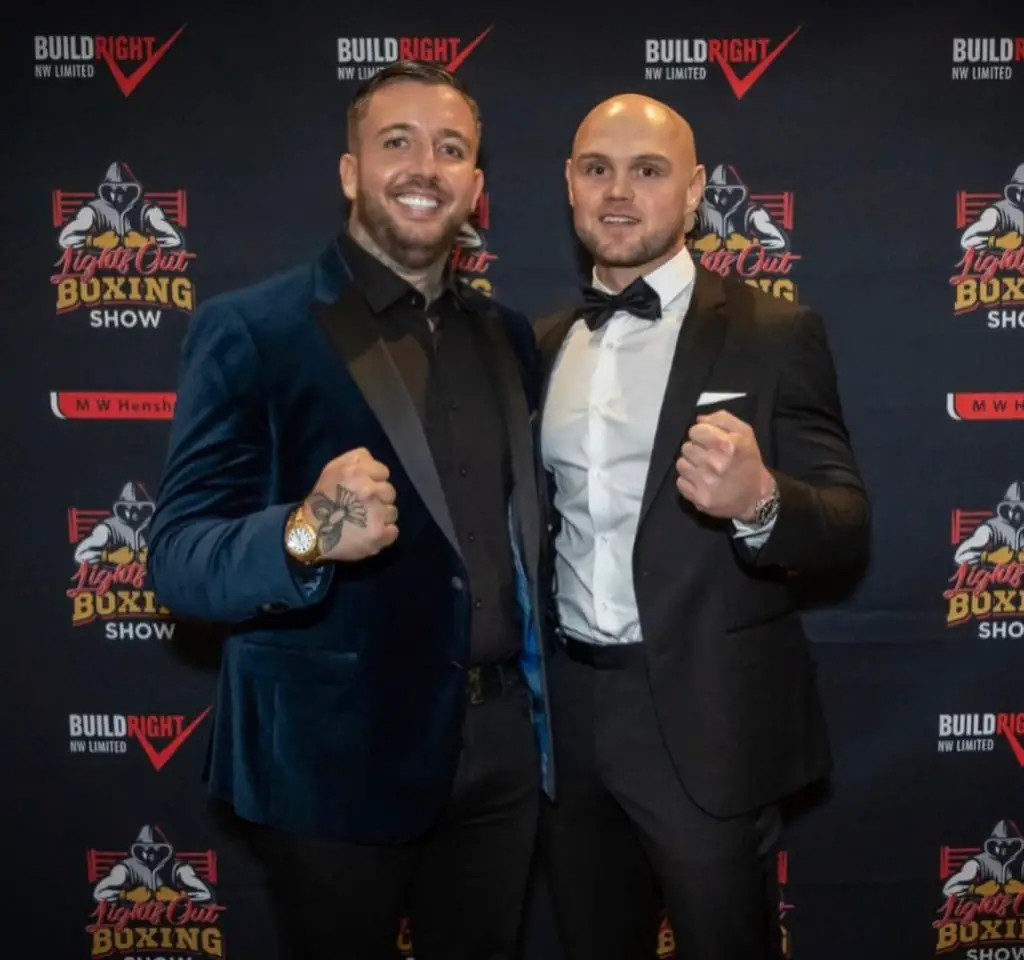 The promotion is looking to branch out over the coming years, turning from a local show into a regional show. When speaking to promotor and organiser Max Henshaw earlier this week, he shared plans to take the show nationwide whilst providing top-quality matchups and raising money for charities, such as the Isla Rose Foundation.
So, who knows? Lights Out Boxing could be coming to a venue close to you very soon.
More information about the Boxing and Bangers event can be found over at the Lights Out Boxing Facebook Page. You can read more about the scheduled bouts, see photos and results from past events, and purchase tickets.
---
Follow me over on Twitter: @ClarkoMMA for MMA-related news and follow us at Combat Sports UK for more exclusive content!
Featured image credits to Lights Out Boxing