Kristoff Grambow is on a 4-fight-win-streak and is struggling to find an opponent for the UKFC card on May 14th. The usually quiet fighter has taken to social media to find a fight.
Kristoff Calls for a Fight with Ciaran Heffernan
The surging 4-0 flyweight has been eyeing up the May 14th card, eager to keep active. However, fights have failed to materialise. Whether fighters are wary of him or it is a coincidence is a matter of who you ask. The flyweight division is not short on talent, though. The Gibraltar native has taken to social media to call out Ciaran Heffernan. Ciaran is a 2-0 fighter. He collected two finishes to begin his amateur career. Ciaran was last booked to fight Luke Burns, who was coming off a loss, having fought for the title, although the fight fell through. That has not slowed down Ciaran Heffernan, who fights out of Manchester Top Team, a gym filled to the brim with talent. He has since taunted sitting champion Shawod Choudhury. 
Kristoff Grambow Makes the Call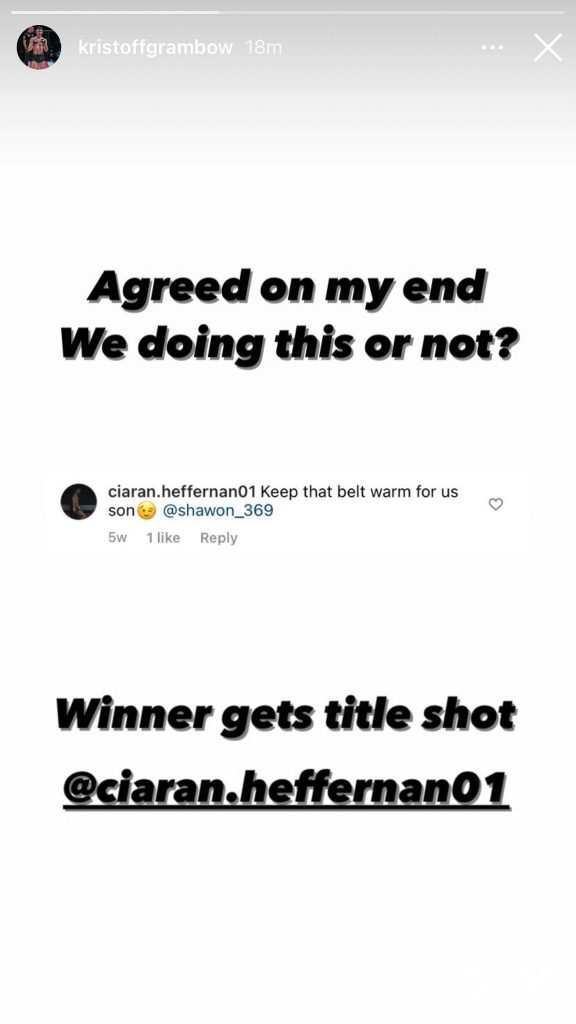 Ciaran Hefferman's Response
A title eliminator to be added to the UKFC May 14th card is an exciting prospect. Combat Sports UK contacted Ciaran Heffernan for a response. When asked about the prospect of fighting against Kristoff Grambow on May 14th, he said, "Only heard of him two minutes ago".
Ciaran went on to clarify this statement saying, " I'm looking to climb the ladder. I'm currently [ranked] 23rd. Anybody above that number sounds like a good fight."
Kristoff Grambow is ranked 34th as a bantamweight fighter, a weight class he is less active in. However, the fighters out of Reps MMA are ranked as the 18th best flyweight in amateur UK MMA.
Is this the fight to make at flyweight? Which fighter comes out on top?
---
Follow me on Twitter at @rowZpolish, and follow us at Combat Sports UK for more exclusive content!
Featured image credits to UKFC